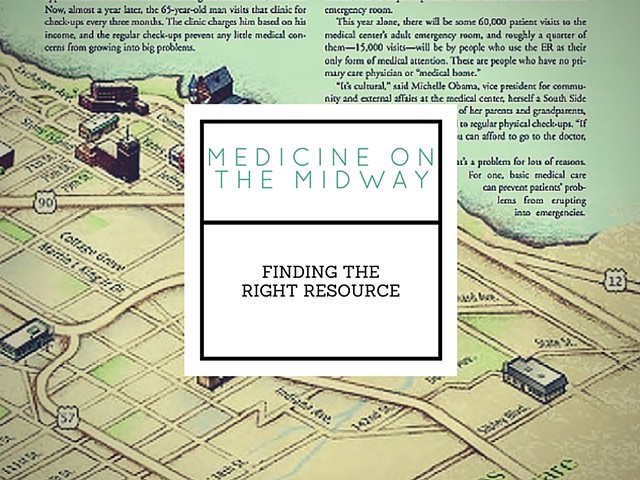 Finding the Right Resource
Medicine on the Midway (interview with Michelle Obama) | May 2007
May 01, 2007
Have questions about this story? Let's chat
James Kinney didn't have a primary care doctor when he checked into the emergency room in excruciating pain last summer. The uninsured electrician didn't have anywhere else to turn.
But by the time he left the hospital, he'd set up a follow-up appointment at a health clinic in his neighborhood on 115th Street. Now, almost a year later, the 65-year-old man visits that clinic for check-ups every three months. The clinic charges him based on his income, and the regular check-ups prevent any little medical concerns from growing into big problems.
"It's been great," Kinney said. "Very convenient."
The University of Chicago Medical Center would like a few thousand of Kinney's neighbors to follow his example. That's why the university is building partnerships with local health centers and clinics: both to improve patients' health and to relieve stress on the emergency room.
This year alone, there will be some 60,000 patient visits to the medical center's adult emergency room, and roughly a quarter of them—15,000 visits—will be by people who use the ER as their only form of medical attention. These are people who have no primary care physician or "medical home."
"It's cultural," said Michelle Obama, vice president for community and external affairs at the medical center, herself a South Side native who, following the lead of her parents and grandparents, grew up unaccustomed to regular physical check-ups.
"If you don't believe you can afford to go to the doctor, you don't go."
That's a problem for lots of reasons.
For one, basic medical care can prevent patients' problems from erupting into emergencies.
...to read more, click here
(downloads pdf)